Online Shopping Trends 2019 & Key Figures - What you need to know
January 14, 2019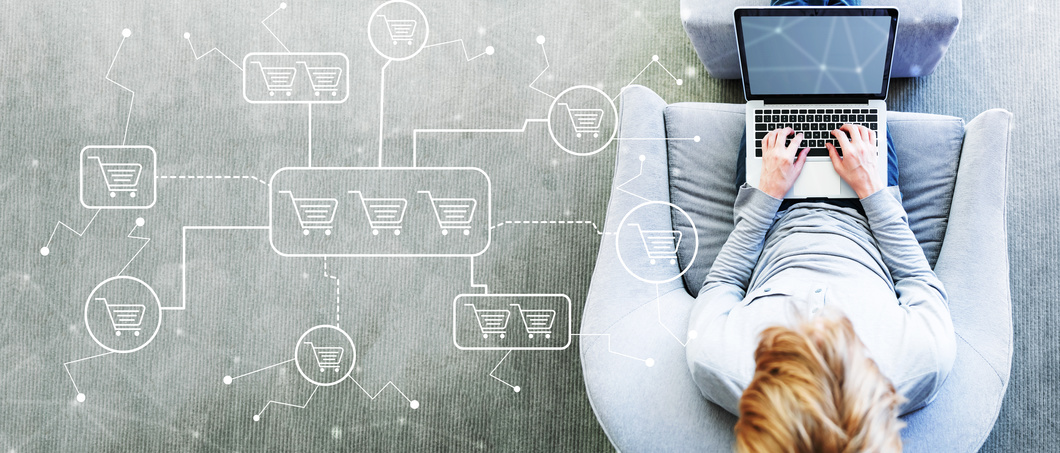 1. E-commerce Market
E-commerce is a strongly growing domain showing no signs of decline.
With online shopping now accounting for almost 10% of total retail sales (Source: eMarketer), e-commerce has a significant impact on traditional retailing and this will continue in the following years.
US Census Bureau Figures show that over the last two decades, U.S. online retail sales have grown rapidly, rising from 5 millions in 1998 to 389 millions in 2016. In Europe, Enterprises Total Turnover from E-commerce represented 15% in 2014, growing to 19% in 2017 (Source: Eurostat).
Whatever the individual's type is, online purchases are growing:
According to data provided by Eurostat, biggest growth in EU28 is among individuals aged 20 to 24: the % of individuals having last purchased online in the last 3 months among internet users grew by 25% between 2013 & 2017, going from 51% to 64%, where for all individuals, this increase was of 14%.
Since 2000, the growing adoption of the internet, rising from 52% of total population in 2000 to 89% in 2018, has really boosted e-commerce sales.
The estimated e-commerce revenue of top 5 countries in 2018 are (Source: Statista, Roland Berger):
USD 584 billion for China, (USD 110 billion higher than the United States)
USD 474 billion for the US
USD 105 billion for Japan
USD 103 billion for UK
USD 70 billion for Germany
More recently, we can observe the same phenomenon thanks to smartphones adoption, with 77% of US adults owning a smartphone in 2018, based on Pew Research Center figures.
2. E-commerce Trends
Growth per category
Based on US Census Bureau figures, we can see that as expected, electronics dominate the market, followed by miscellaneous (including office supplies, gifts, novelty and souvenirs) and clothing. Simultaneously, ranking very low, we can find categories such as food and beverages, that have a very small share of online sales. For sure, this will evolve in the coming years, as it already did in 2016 alone: the share of online sales nearly doubled in only one year.
Sales will grow differently, depending on the sector, for example: the US toys market is set to grow by 19% between 2018 & 2022, while the sporting goods sector will increase by 9% only.
Mobile Strategy
With 62% of e-commerce traffic generated by Mobile in Q2 2018 (Salesforce Shopping Index), being mobile-friendly, having quick, usable and compelling content on smartphones is now mandatory to generate success. Today, one-in-five American adults are "smartphone-only" internet users (Pew Research).
According to data published by eMarketer, online sales made on mobiles represented more than $156 billion in the United States in 2017. This value is estimated to increase to $206.51 billion in 2018. Based on App Annie's estimates, 50 total mobile-commerce spend per user is expected to increase by 228% in the period 2016-2021.
BtoB
B to B will also be impacted: B2B firms are expected to spend more on e-commerce technology than online retailers do.
Online reviews
For marketing professionals and brands, the following should be reassuring: With more consumers incorporating online reviews into their buying decisions and more shoppers showing an inclination to write good reviews, the benefits do seem to outweigh the risks. TripAdvisor, Yelp, consumer associations and company websites will be more and more part of the e-commerce industry: they all offer online product and services reviews, although a third of Americans say search engines are their starting point for finding recommendations, based on the figures published by ReportLinker.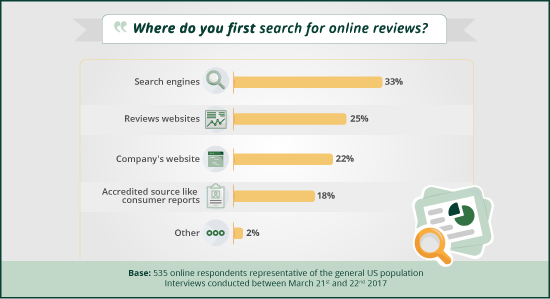 Digital marketing professionals often fear online reviews because a negative one can potentially harm their brand. Yet, the benefits could be greater than the risks. Online reviews can help brands sell more. That's because reviews help consumers evaluate their choices and increase their confidence in their decision.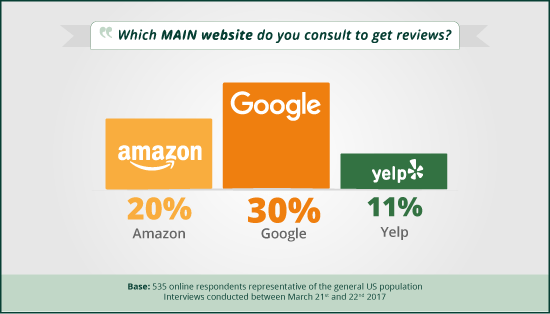 Thus, businesses that embrace online reviews are likely to see sales rise, while those who ignore them may miss out on a significant number of potential customers.
3. E-commerce Forecasts
Based on numbers from the US Census Bureau, Online retail sales are expected to continue to grow by almost 20% between 2018 and 2022 in the US, reaching almost 380 millions in 2022.
The biggest potential for a boost to growth in online shopping would be expansion into categories where online sales penetration remains low – such as food retailing. Food, Beer, and Wine E-commerce Sales in the US represent only 9,129 Million US Dollars.
Increased availability of food shopping online at a competitive price could provide a significant boost over the medium term to the growth of online shopping overall. The lines between traditional retailers and e-commerce operators are likely to be increasingly blurred.
4. E-commerce Industry
Whilst growing rapidly, it should come as no surprise that the online shopping industry will also have to cope with side-effects such as damaged goods, delivery time and costs, and online fraud. They are often considered as secondary but will be key in the growing competition to differentiate the partners: Lastly, considering European Commission figures, Individuals Having Received Wrong or Damaged Goods or Services when making Online Purchases in the EU28 increased from 5% to 6%. Customers also have to cope with longer deliveries than promised constraints (time & costs). In Europe, they were 14% in 2015, and 16% in 2017 having encountered longer than indicated delivery when making online purchases. We witness the same trend for the delivery costs that will be a key differentiation element for online retailers: between 2015 and 2017, the % of Individuals having encountered Higher Than Indicated Delivery Costs in Europe increased from 3 to 4%.
When it comes to Online Fraud, it is is one of the major issue of the sector, with a huge gap between 2015 & 2017, and a greater % of Individuals having encountered problems with fraud when making Online Purchases. For example, in the UK, it jumped from 5% to 6%.
In this context, one thing is clear: the way e-commerce actors deal with customer service and the complaints will make the difference. Customers are more and more demanding and the number of Individuals who haven't been satisfied by the way their complaint was treated grew from 2 to 3% since 2015.
The way online actors invest in customer services, is more than ever a key factor to their success.